Don't take our word for it, we have worked with some of the UK's largest companies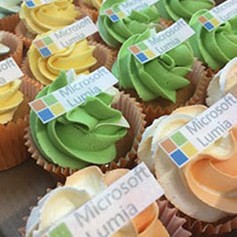 Freshly prepared premium cupcakes with a high quality fondant logo placed on top, perfect for any event.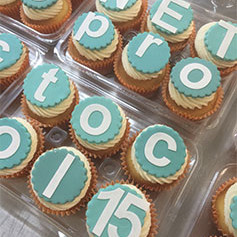 A tasty bitesize edition of our premium cupcakes.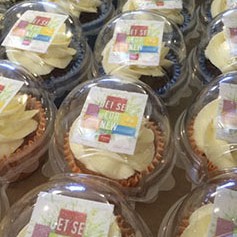 Delicious premium cupcakes in individual boxes or clamshell cases to add that personal touch.
" I have ordered cupcakes from dream cupcakes on several occassions for trade shows. The cupcakes are really tasty and the printed logo is rally well done. I rate 5 stars. "
Celine Dushesne, Marin Software
" Thank you so much for all your hard work on our cupcakes for all three events! We have finally got through them all and the cupcakes had a great impact on all three receptions. Very happy that there's a comment in G2 today on them! "
Sarah from Sky News
" They were beautiful & perfect! Everyone who had one said they were delicious and so nice they wanted another one to take home. You and you team have done yourselves proud. Your business communication is faultless and I will always recommend you to anyone who asked about cupcakes. Thank you once again. Five stars all the way. "
Kate Wilkins, British Gas
" Leanne and the team at Dream Cupcakes provided the icing on the cake for our internal rebrand programme. From start to finish, nothing was too much trouble. In fact, they were a dream to deal with. "
Pauline Foster, PFK Creative

" The cakes were fantastic, rally tasty and they were decorated beautifully. Everyone really enjoyed them… Thanks so much for your help. I can't suggest how to improve the service as everything was spot on for us. "
Ann, Lime Movies